MOTORBIKE CARAVAN – MOTORCYCLE TRAILER CARAVAN
DECAMP Trekking C3 Caravan: 2-in-1 Motorcycle Trailer Caravan
The DECAMP Trekking C3 caravan is a unique off-road caravan model that can also be used as a trailer for transporting your motorcycles. During the day, it carries your motorcycle, and at night, it allows you to enjoy a comfortable camping experience. Designed for motorcyclists, this multifunctional trailer transforms into a caravan and can accommodate up to 5 people on board.

Practical, versatile, and comfortable, this 2-in-1 off-road caravan is your ally for camping trips and enjoying your two-wheeler.

No need for a motorcycle carrier or dedicated trailer anymore—this caravan model allows you to transport your motorcycles safely and sleep comfortably in a perfectly equipped caravan.
THE PERFECT MOTORCYCLE TRAILER CARAVAN FOR ALL YOUR MOTORCYCLE AND CAMPING ADVENTURES
Combining off-road motorcycle rides or track sessions on a race circuit with a comfortable night in a caravan is the dream of every adventurous motorcyclist!

Ideal for nature getaways or sleeping near the paddock of a race track, the DECAMP CARAVAN Trekking C3 model is a unique and convertible motorcycle trailer caravan. If you love camping and motorcycles, this model is the one for you.

With this motorcycle trailer caravan, you can transport vehicles up to 2.6 meters long and 1.5 meters wide in your off-road caravan. You can easily fit two motorcycles into this enclosed and secure interior space.

As a true motorcycle trailer, it allows you to transport all your two-wheelers and their accessories, with the sleeping comfort that caravans offer.
A MOTORHOME FOR MOTORCYCLES WITH ALL THE COMFORT OF A HOUSE
Multifunctional, this motorcycle caravan is ideal for all motorcyclists seeking adventure and comfort. Each interior space is optimized to provide storage and living space.

It comes with all the accessories and interior equipment of a real house. The cabin is also equipped with insulation panels to enjoy camping in all seasons.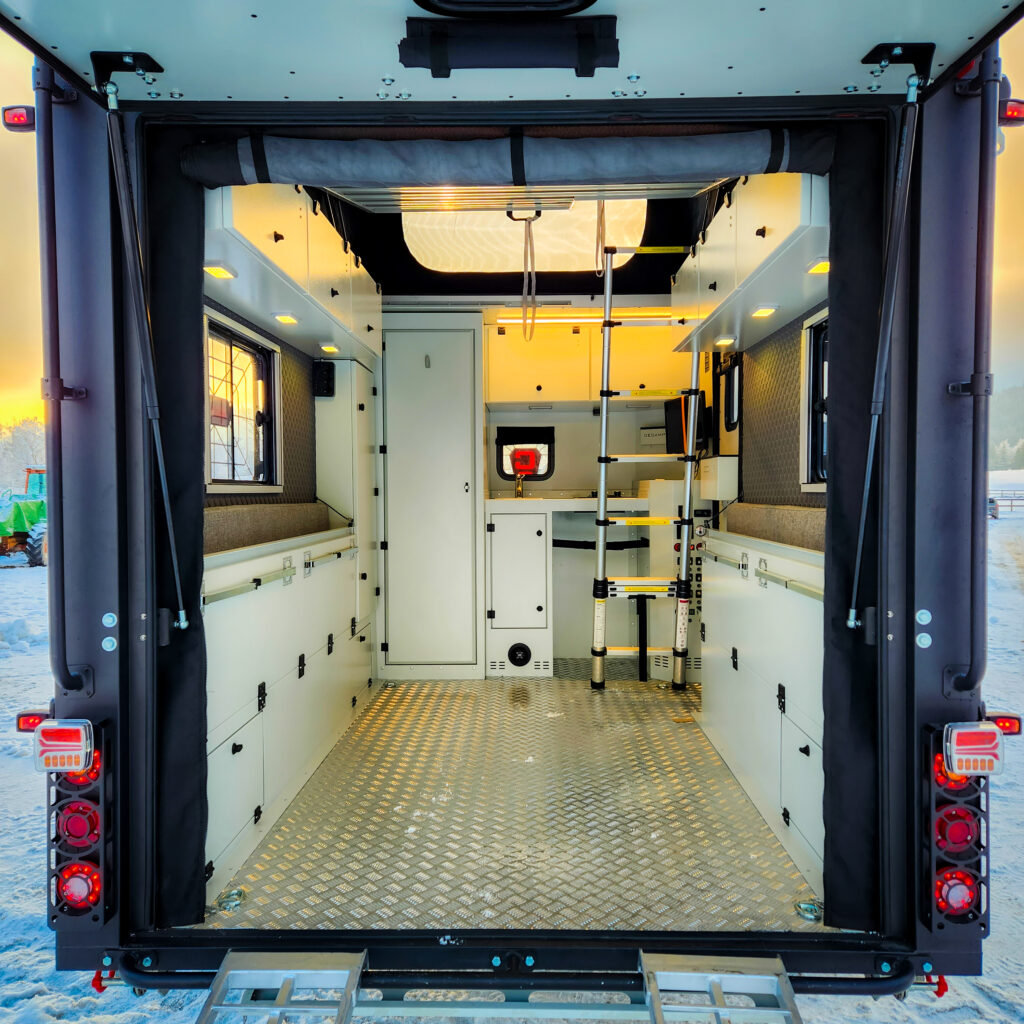 IDEAL TRAILER FOR MOTORCYCLE TRANSPORT
A real PLUS for this caravan that converts into a motorcycle trailer. It allows you to transport your motorcycles, quad, or bicycles.

Completely secure during transport, your motorcycles accompany you on all your adventures and on any terrain. Enjoy your motorcycle outings to the fullest with this convertible mini-caravan.
SEATING AREA AND SLEEPING FOR 5 PEOPLE
The seating area transforms into a large bed measuring 208 cm x 187 cm for sleeping. This motorcycle caravan also has additional sleeping spaces under the roof tent.

The roof tent can accommodate 3 additional sleeping spaces with mattresses. This caravan is well-equipped with optimized spaces to allow you to rest after your motorcycle escapades.
INDOOR GAS KITCHEN
The indoor kitchen allows you to prepare delicious meals just like at home. A fully modular kitchen, it provides you with a comfortable space for cooking while enjoying well-designed storage.

You can easily store all the necessary kitchen accessories. Equipped with gas, it guarantees that you can prepare your own meals if desired.
INDOOR SHOWER AND TOILET
This motorcycle caravan is also equipped with a shower and toilet. You have all the comforts and accessories of a real home. You can have a pleasant camping stay while enjoying your motorcycles whenever you want.
TRAVEL SAFELY ON YOUR MOTORCYCLE WITH THIS MOTORCYCLE TRAILER CARAVAN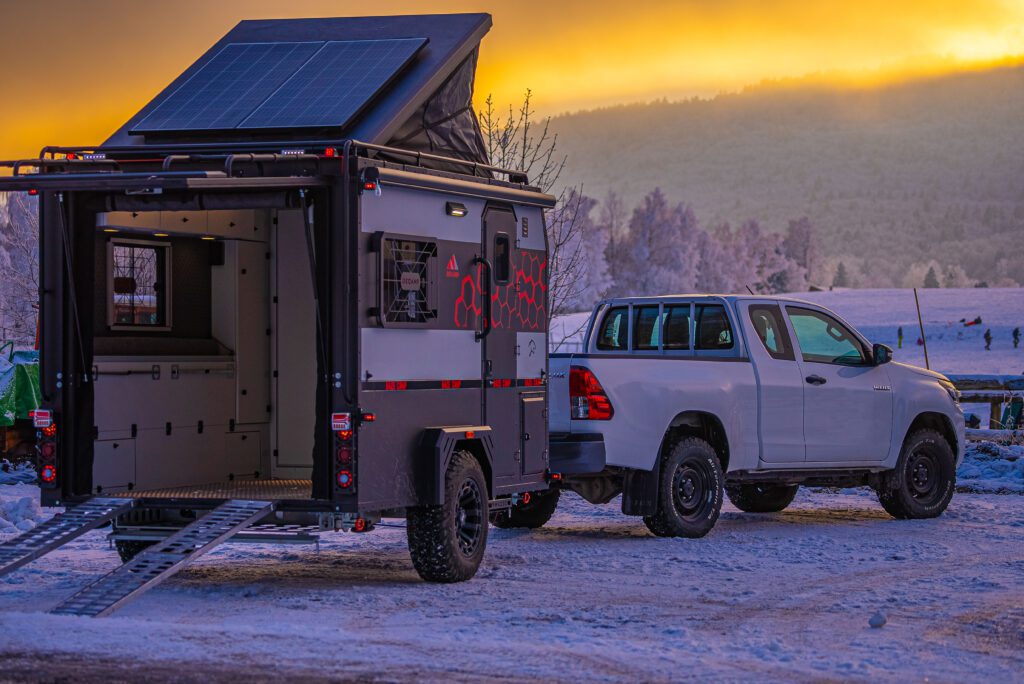 Safe driving
Unlike a fixed motorcycle carrier that affects the center of gravity of your vehicle, this caravan model allows you to drive safely.

This motorcycle caravan is equipped with Alko inertia braking system synchronized with the towing vehicle, independent suspension, 4X4 wheels with raised wheel arches, and an easy-to set-up hitch.
Protection against the elements
Your motorcycles are sheltered from rain or sun inside the enclosed trailer throughout the entire transport until your destination.

Unlike a fixed motorcycle carrier, you don't have to cover them with a tarp during transport on the road. Your motorcycles are securely held in place during transport thanks to integrated fastening points in the cabin of your caravan.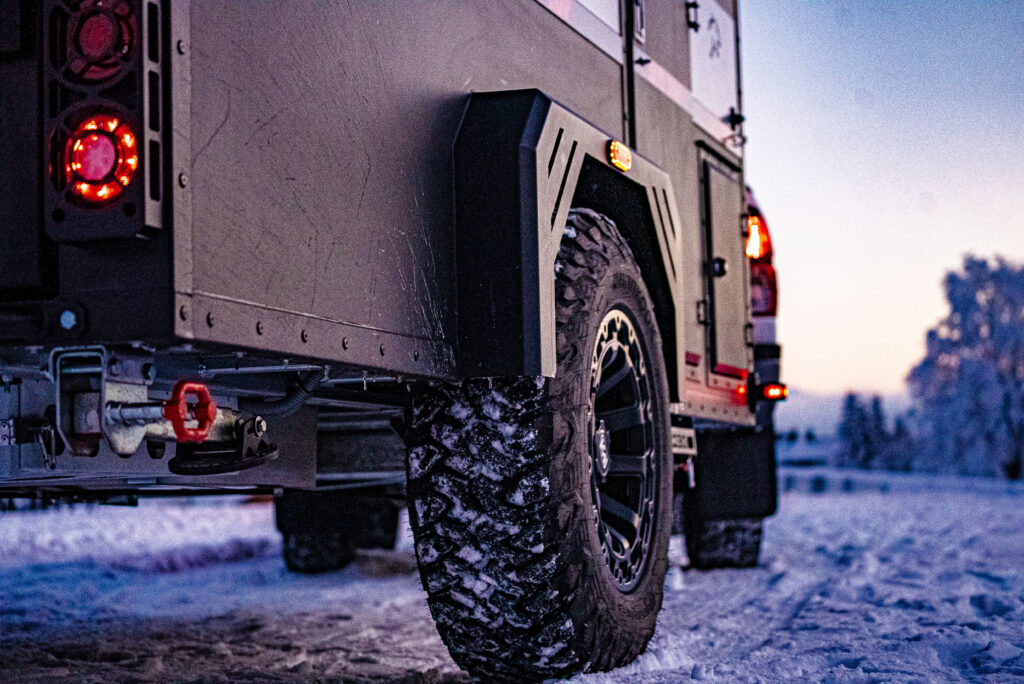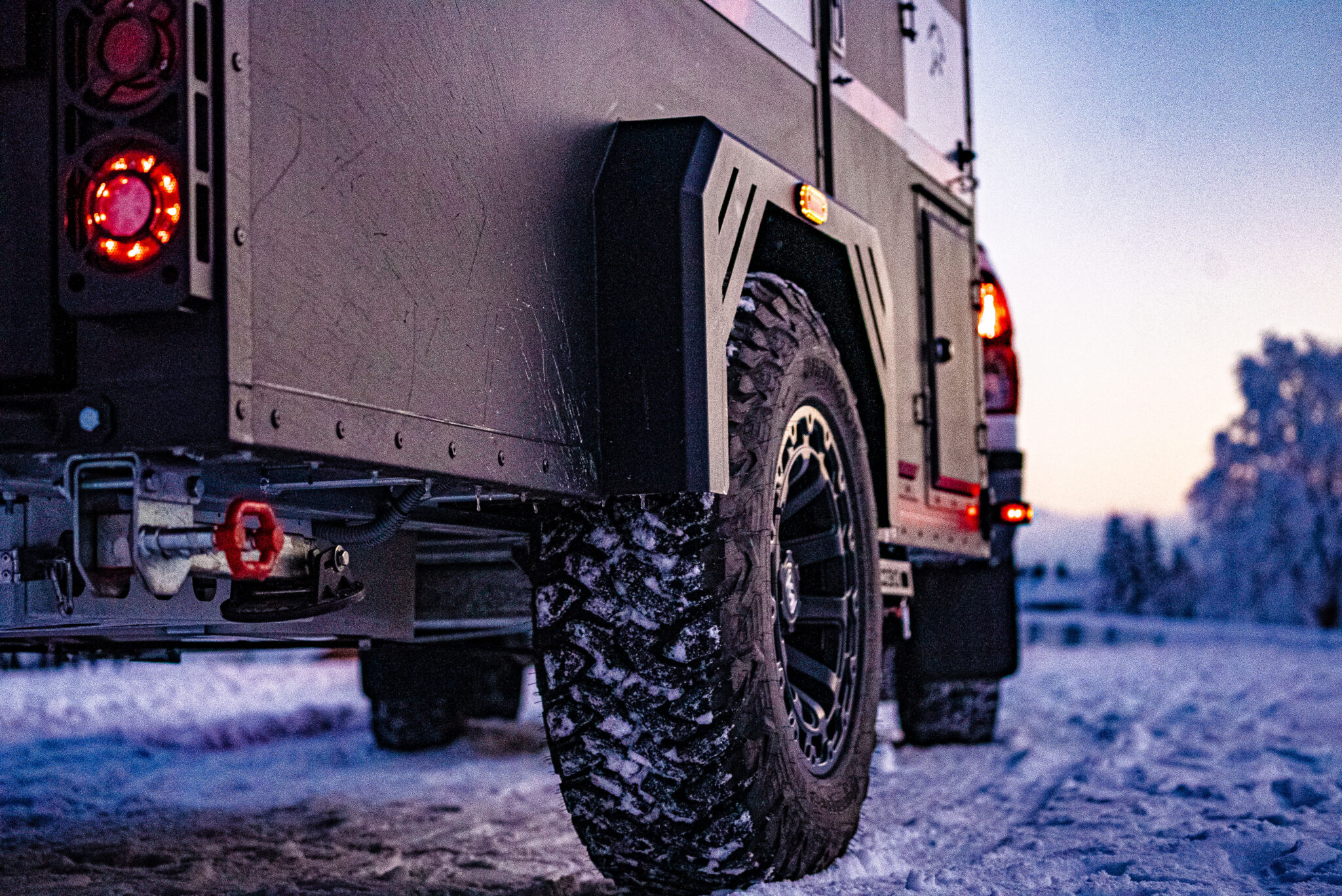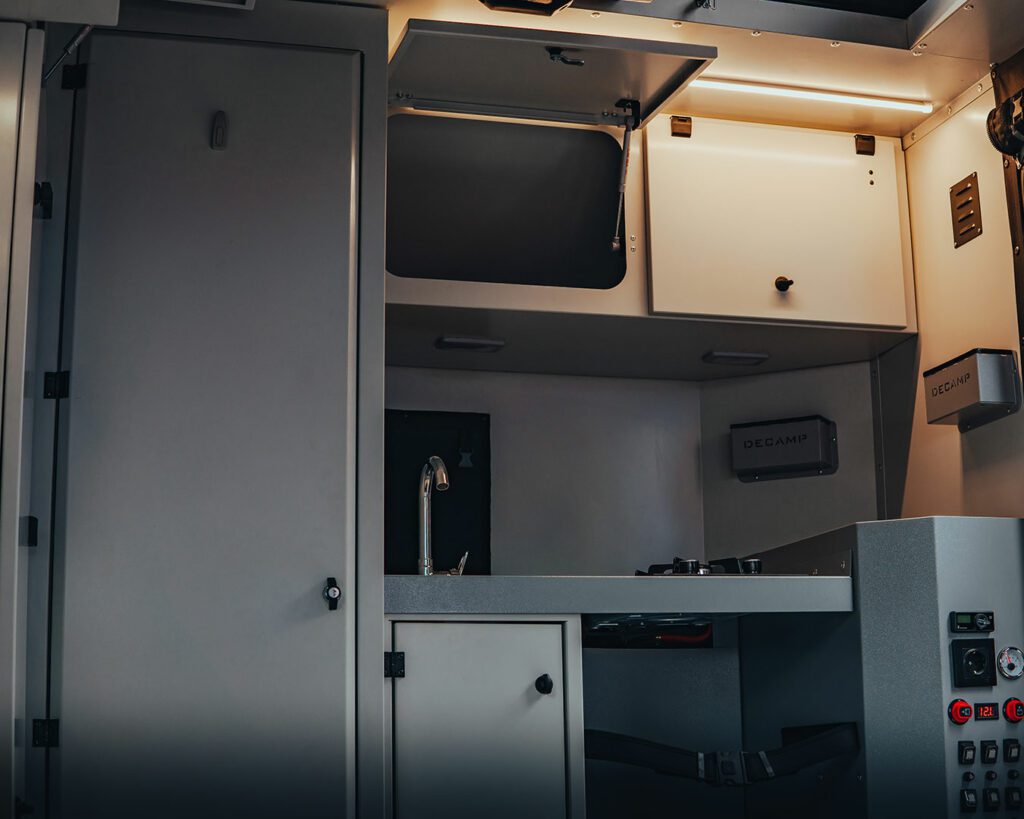 Protection against theft
Unlike a traditional motorcycle trailer or rear-mounted motorcycle carrier accessories on a vehicle, your motorcycles are almost invisible from the outside during transport.

You can make various stops along the way without worrying about the risk of motorcycle theft or damage.
TWO-WHEEL OUTINGS WITH OUR MOTORCYCLE CARAVANS
Enjoy the joys of camping and the freedom of a motorcycle to have a rich and adventurous experience. With DECAMP CARAVAN motorcycle caravans, you can finally enjoy your two wheels during your camping outings.
PHOTO GALLERY OF THE DECAMP TREKKING C3 MOTORCYCLE TRAILER CARAVAN
Discover all the photos of this motorcycle caravan. Imagine your next motorcycle outing or trip with this fully equipped trailer caravan.
TECHNICAL INFORMATION AND ACCESSORIES OF THE DECAMP TREKKING C3 MOTORCYCLE CARAVAN MODEL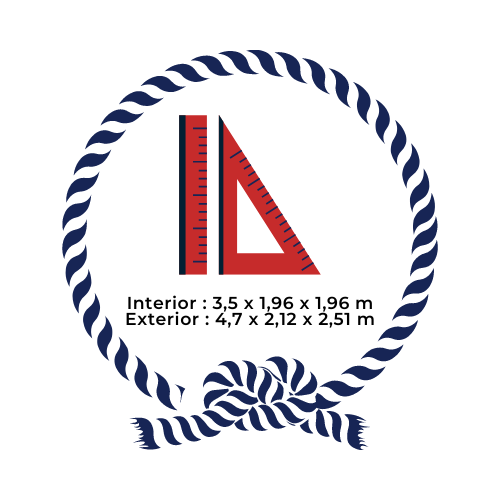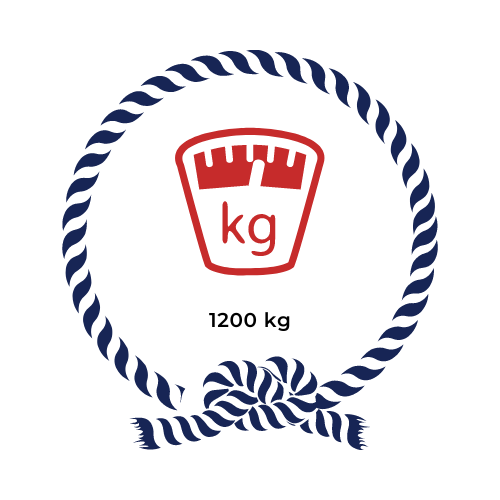 FREQUENTLY ASKED QUESTIONS ABOUT OUR MOTORCYCLE TRAILER CARAVANS