MANUFACTURER
DECAMP CARAVAN
DECAMP CARAVAN
Welcome to the website of Decamp Caravan, your official supplier of All-Terrain caravans.
Are you looking for freedom and adventure? Then explore the world's trails with a robust and comfortable caravan, suitable for all surfaces and floors.
SUPPLIER OF DECAMP OFF ROAD CARAVAN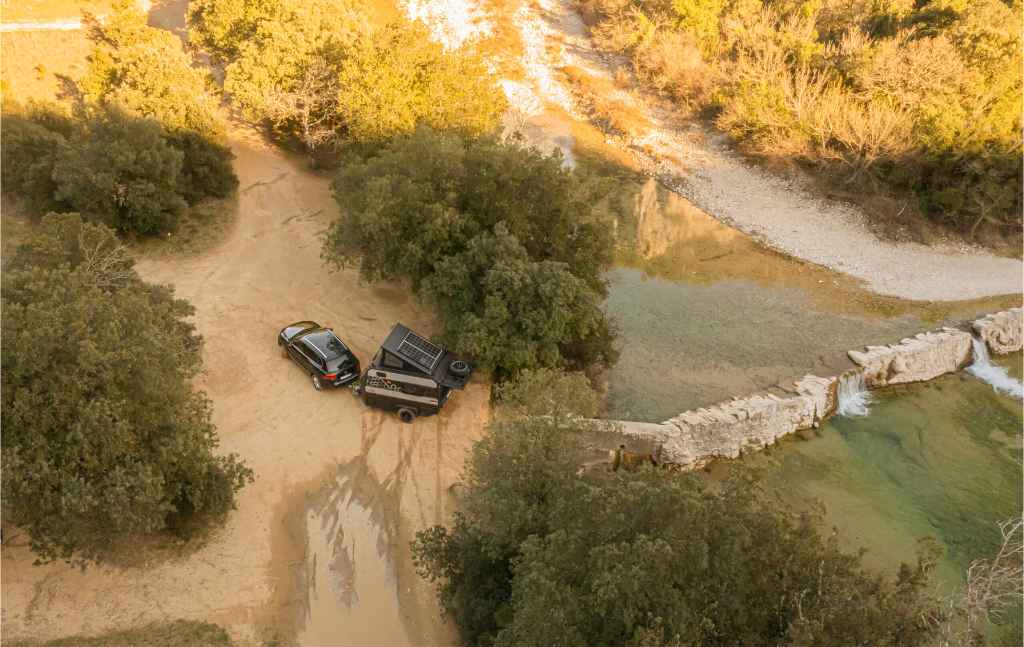 Off-road caravans that are revolutionising the caravan and camping world.
POWERFUL, ROBUST AND COMPACT, THEY ARE DESIGNED TO WITHSTAND HARSH CONDITIONS AND THE MOST EXTREME SITUATIONS.
Vehicles designed to travel in the heart of nature and explore the world.
Quality materials that ensure maximum comfort, safety and functionality.
DISCOVER OUR CARAVAN MODELS
QUALITY SERVICES FOR YOUR COMFORT AND SATISFACTION
WHY SHOULD YOU CHOOSE A DECAMP ALL-TERRAIN CARAVAN?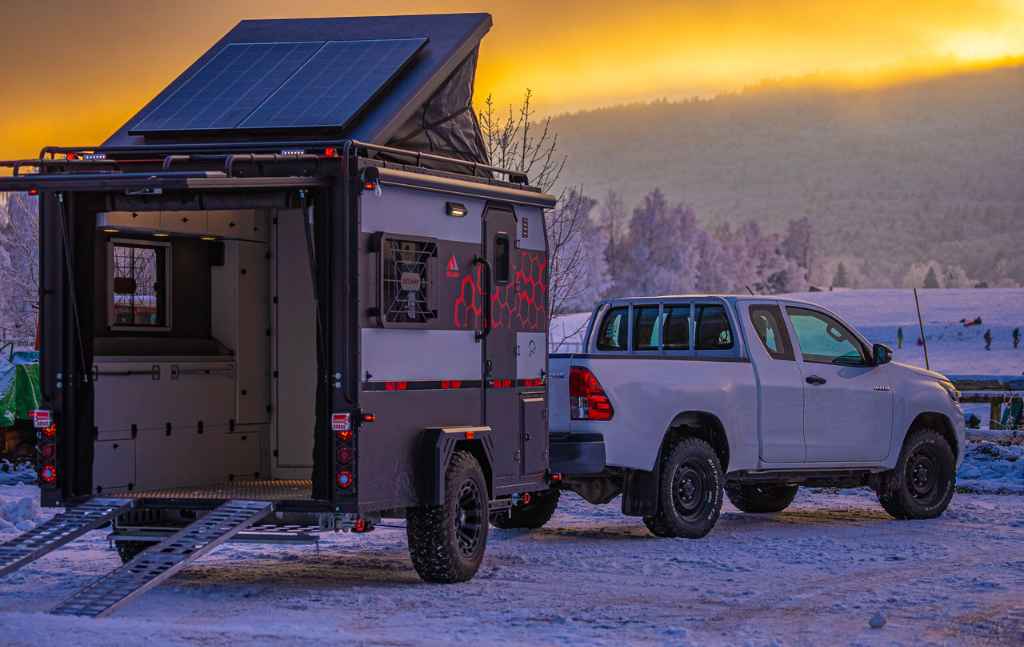 Freedom
Choosing a DECAMP CARAVAN means offering yourself a real sense of freedom.
Would you like to explore the world? Do you want to sleep in the middle of nature under a beautiful starry night? Do you want to improvise your camping or sleep in the mountains? With our caravan models, camping on any terrain is possible.
COMFORT
A real off-road caravan that accompanies you on all your outings on the most complicated terrain and in the most difficult conditions. Comfortable, it is a real compact house that follows you in all your off-road adventures. Each space is designed to take up a minimum of space and to be easy to use. Each caravan has its own living space with a living room, a kitchen, a bathroom and a real bedroom ( with mattress and tent on the roof for some models).
DECAMP CARAVAN is the brand that is revolutionising camping. With DECAMP, no more backpacker's tent, but adventure and comfort.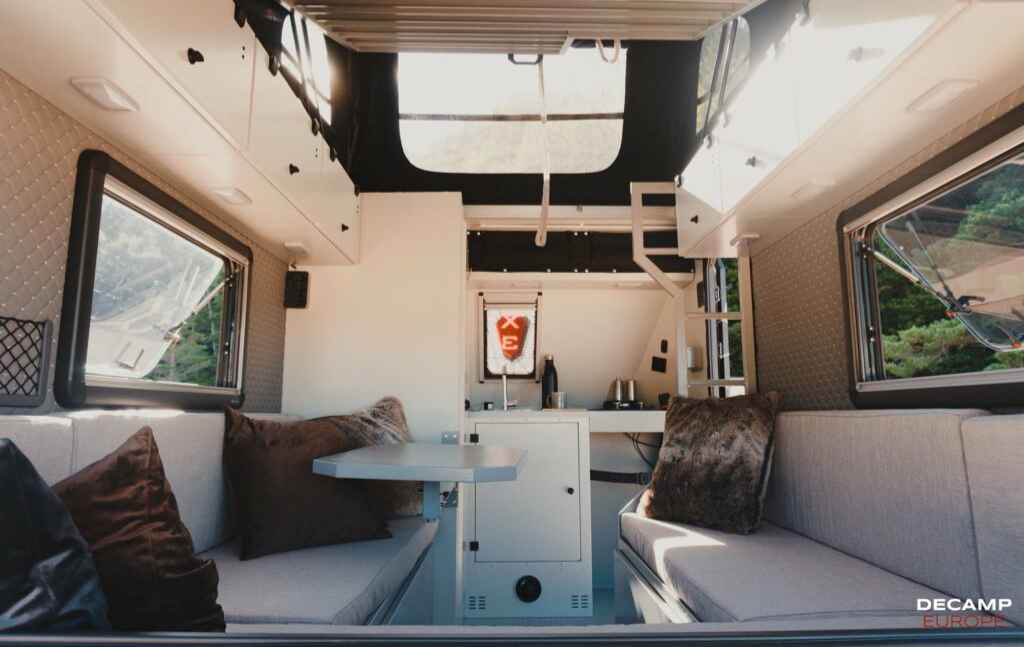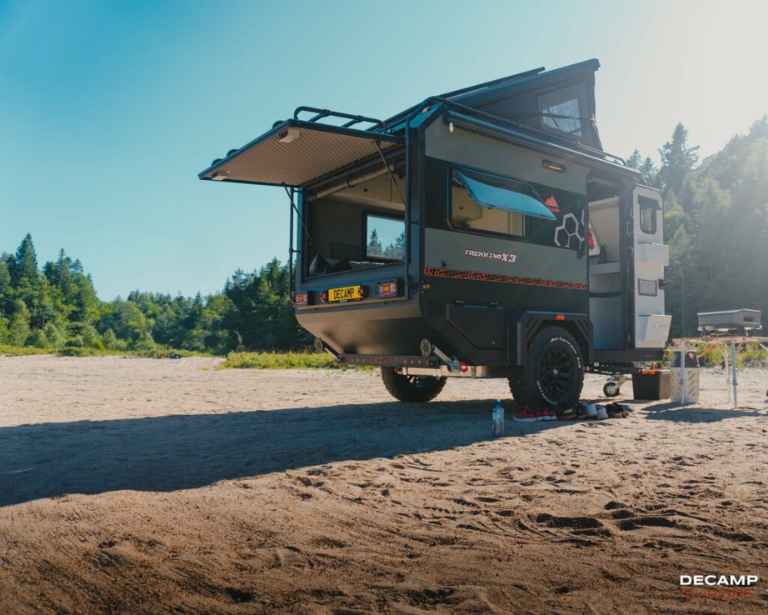 Robustness
Compact and robust, your caravan is built with solid and light materials guaranteeing an unfailing resistance (galvanized steel, aluminium, electrostatic painting).
To enable you to tackle the most rugged terrain, each wheel is equipped with an all-terrain tyre, independent suspension and an inertia braking system.
Need a more compact nomadic dwelling? Explore our pick-up truck campers
Whether you're planning to venture into extremely challenging terrain or simply prefer traveling light, DECAMP presents its brand-new pick-up truck camper, the BACKPACK model. Extremely compact, durable, and lightweight, it securely attaches to your pick-up's bed and provides the same level of comfort as a caravan within its minimalist dimensions.
SOME EXAMPLES OF ACTIVITIES AND CAMPING TRIPS WITH OUR CARAVANS
DECAMP CARAVAN, YOUR ADVENTURE PARTNER
FREQUENTLY ASKED QUESTIONS ABOUT OUR DECAMP CARAVAN MODELS