DECAMP CARAVAN
TEARDROP CARAVAN
DECAMP CARAVAN, TEARDROP CARAVANS DESIGNED FOR ALL CAMPING ADVENTURES
As an off-road caravan specialist, DECAMP CARAVAN designs and creates teardrop caravans that adapt to all camping adventures.

Compact, lightweight, and off-road capable, each off-road caravan model combines comfort, maneuverability, and ease of movement.

With DECAMP CARAVAN caravans, you can camp wherever you please and conquer even the most inaccessible roads and trails. Freedom and adventure await!
WHAT IS A TEARDROP CARAVAN?
A teardrop caravan is a compact and lightweight camping trailer with a low, elongated shape. Due to its characteristic shape resembling an inverted teardrop, it is called a "teardrop."

The first teardrop trailer models appeared in the 1930s-1940s in the United States, catering to the needs of early vacationers in search of off-road adventures.

Teardrop caravans are designed, despite their small size, to provide a comfortable sleeping space and optimized storage area, allowing for all essential camping equipment on board.
DECAMP CARAVAN, THE OFF-ROAD TEARDROP CARAVAN SPECIALIST
At DECAMP CARAVAN, our teardrop caravan models are equipped with a spacious double bed inside, a fully-equipped kitchen, a lounge area, and a toilet and shower space, all designed with an off-road focus.

Perfectly suited for camping and traveling on all terrains due to their compact size, ease of towing, and off-road capabilities, DECAMP CARAVAN caravans allow you to explore the world in tranquility, enjoying a comfortable living space and off-road capabilities comparable to a 4×4, enabling nomadic adventures and nature-filled caravaning.
OUR OFF-ROAD TEARDROP CARAVAN MODELS
THE ADVANTAGES OF OUR TEARDROP CARAVANS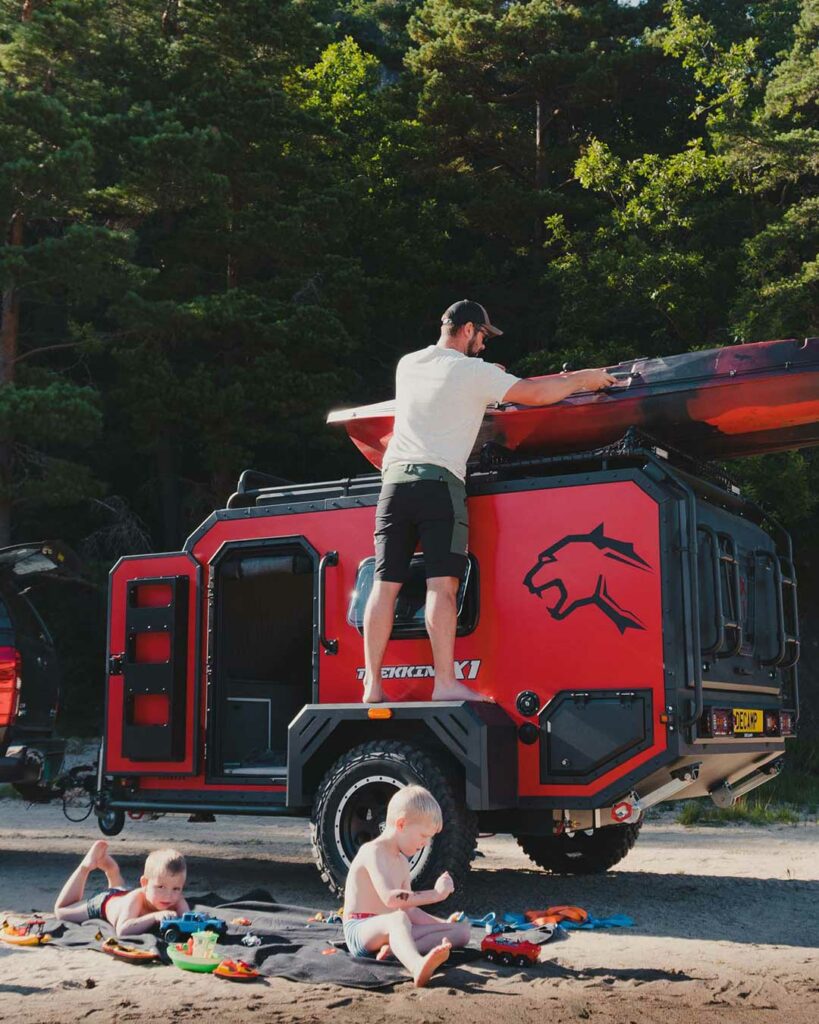 FREEDOM
Choosing a DECAMP CARAVAN means being able to travel with complete freedom, wherever and whenever you want.

Do you want to camp in the middle of nature? Are you looking to plan a road trip off the beaten path? Do you want to spontaneously set up a bivouac in the mountains or by the sea?

With our caravans, camping on all terrains is within your reach. Set up your camp wherever you desire and enjoy comfortable equipment and sleeping arrangements for a great night's rest!
COMFORT
Fully equipped and designed for travel, nothing is left to chance in our teardrop caravans.

Each DECAMP teardrop caravan model can accommodate up to 5 sleeping spaces and features a full kitchen, shower/toilet area, and a lounge. Everything is organized in an ultra optimized space, minimizing size and weight.

Maximum comfort is found in our range of mini-caravans! With our teardrop camping trailers, you can go camping with the assurance of combining adventurous caravaning with pleasure and nature.
VERSATILITY
Our different caravan models are versatile and suitable for all adventurous travelers' needs. You can travel with family or friends with the X1, X3, and C3 models.

The C3 model is a 2-in-1 trailer caravan that even allows you to transport your quad, motorcycles, or bicycles while enjoying the amenities of our caravans (5 sleeping spaces, kitchen, lounge, shower/toilet, storage).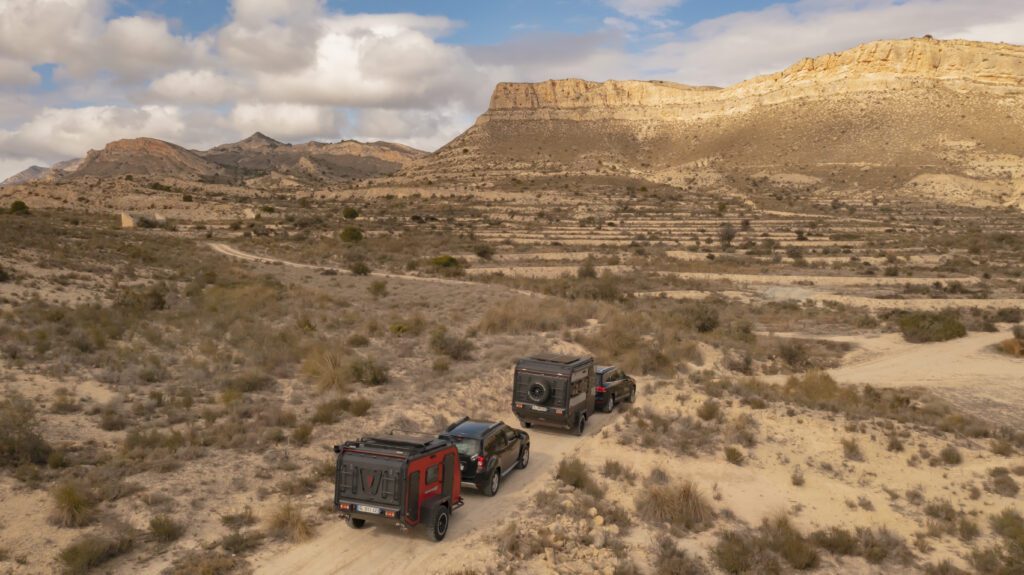 OFF-ROAD CAPABILITY
Designed in the workshop and tested in real conditions, each of our off-road caravan models guarantees exceptional off-road capabilities: deserts, beaches, mountains, stone paths, river crossings, off-road trails.

You can travel with peace of mind and safety with your 4×4 trailer caravan. Each caravan features a galvanized profiled steel chassis, independent suspensions, and increased ground clearance. The wheels are equipped with 4×4 tires. Each caravan has inertia braking with ALKO stabilization.
ROBUSTNESS
Designed to conquer the most challenging roads and trails, DECAMP CARAVAN teardrop trailers ensure unparalleled robustness and maximum durability.

The chassis and body of our off-road caravans are deformation-resistant, regardless of the routes taken during your travels.

Your trailer caravan withstands countless kilometers without showing signs of
wear. Constructed with resistant and high-quality materials, it is also protected from corrosion with electrostatic paint.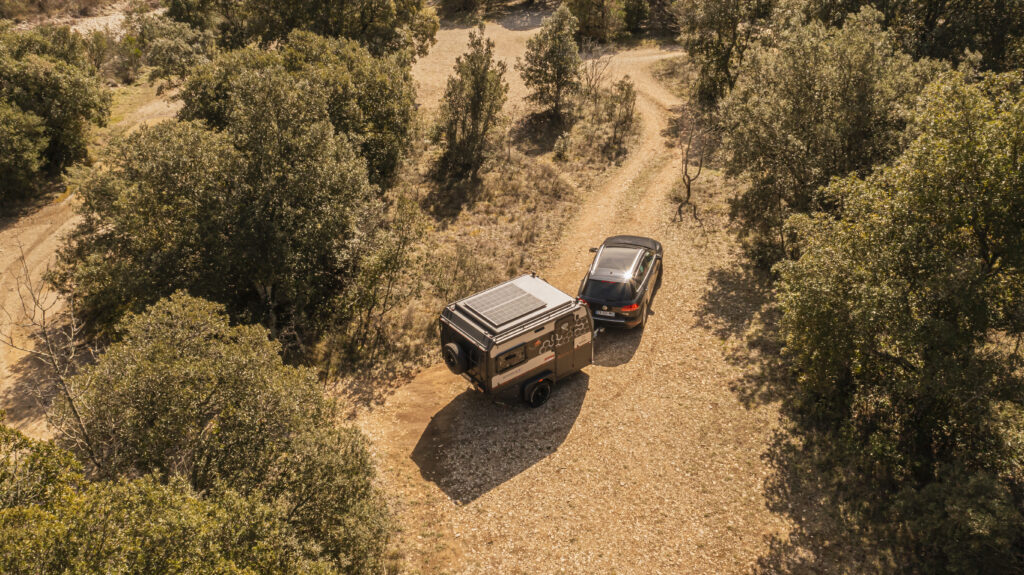 QUALITY SERVICES FOR YOUR SATISFACTION
Frequently Asked Questions about Teardrop Caravans