DECAMP Caravan trekking C3 : OFF Road caravan and 2 in 1 quad trailer
The Caravan C3 is a unique multitask caravan that can be used as a trailer.
During the day, it carries your quad, your motorbike, your bike. In the evening, after your ride on two or four wheels, it transforms into a caravan for camping in the middle of nature and can accommodate up to 5 people.
Practical, adjustable and comfortable, this 2 in 1 off-road caravan is your ally for a weekend in the countryside or for camping in any terrain.
the ideal caravan for your quad, motocross, moutain bike outings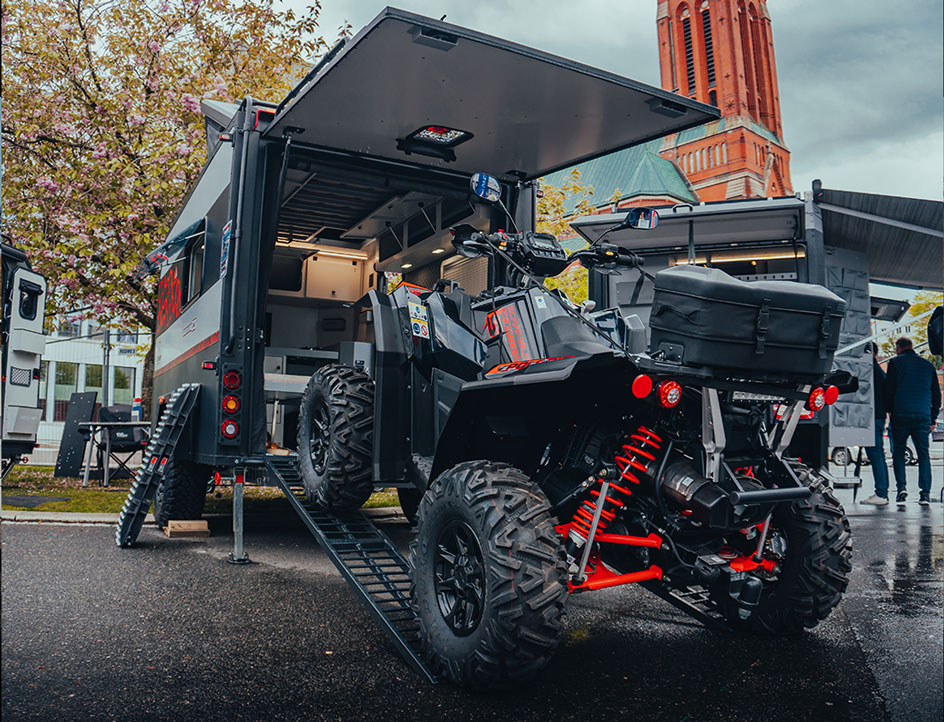 Quad and motocross trips combined with a multifunctional caravan is a dream! The Decamp Caravan Trekking C3 is ideal for trips into the wilderness and offers you the possibility to bring a quad or a motocross into your caravan.
You can transport a vehicle with a length of 2.6 m and a width of 1.5 m in your off-road caravan.
A true quad trailer or motorbike trailer, it can carry all your vehicles and their accessories, with the sleeping comfort of a caravan.
It can be used as a trailer for karting, motocross, quad, cycling competitions, etc.
A robust, compact and 4×4 caravan model
With its aluminium structure, the C3 caravan trekking can tackle the steepest terrain and in the most extreme conditions.
Robust, it can cope with any terrain with ease. It is designed to withstand both extreme climates and the steepest roads. It is designed to be compact and offers maximum interior space. It has all the necessary living space and equipment for campers.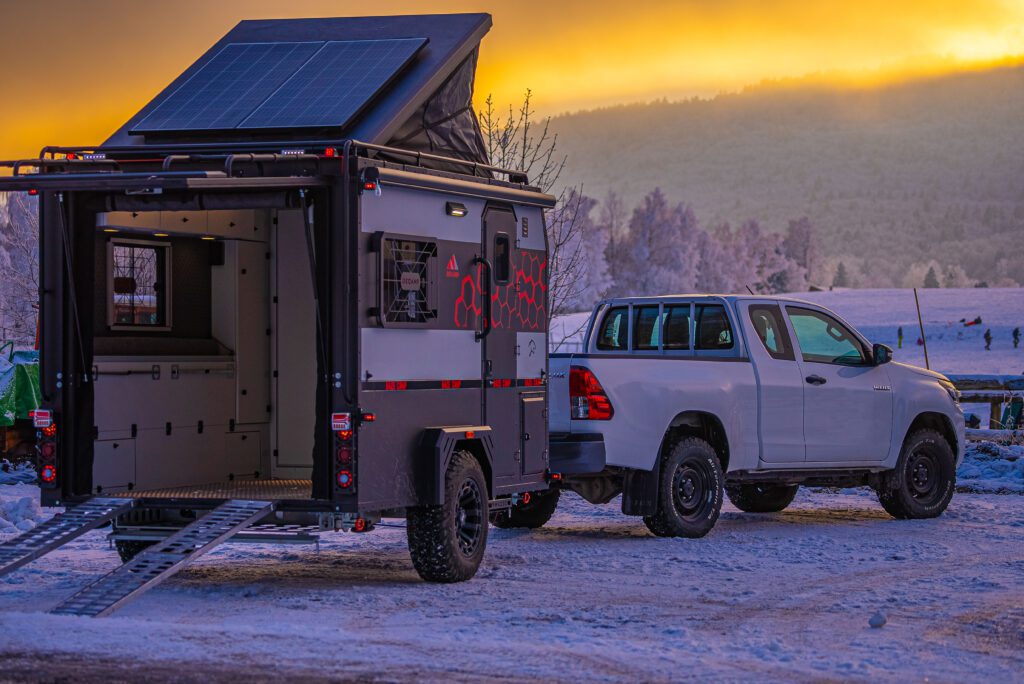 A comfortable caravan for camping in the middle of nature
This multi-functional all-terrain caravan is ideal for anyone looking for adventure, the convenience of a trailer and comfort : fishermen, nature lovers, surfers, bikers, cyclists, craftsmen, hunters,…
The caravan trailer Trekking C3 can also transport materials while enjoying the comfort of a caravan for sleeping.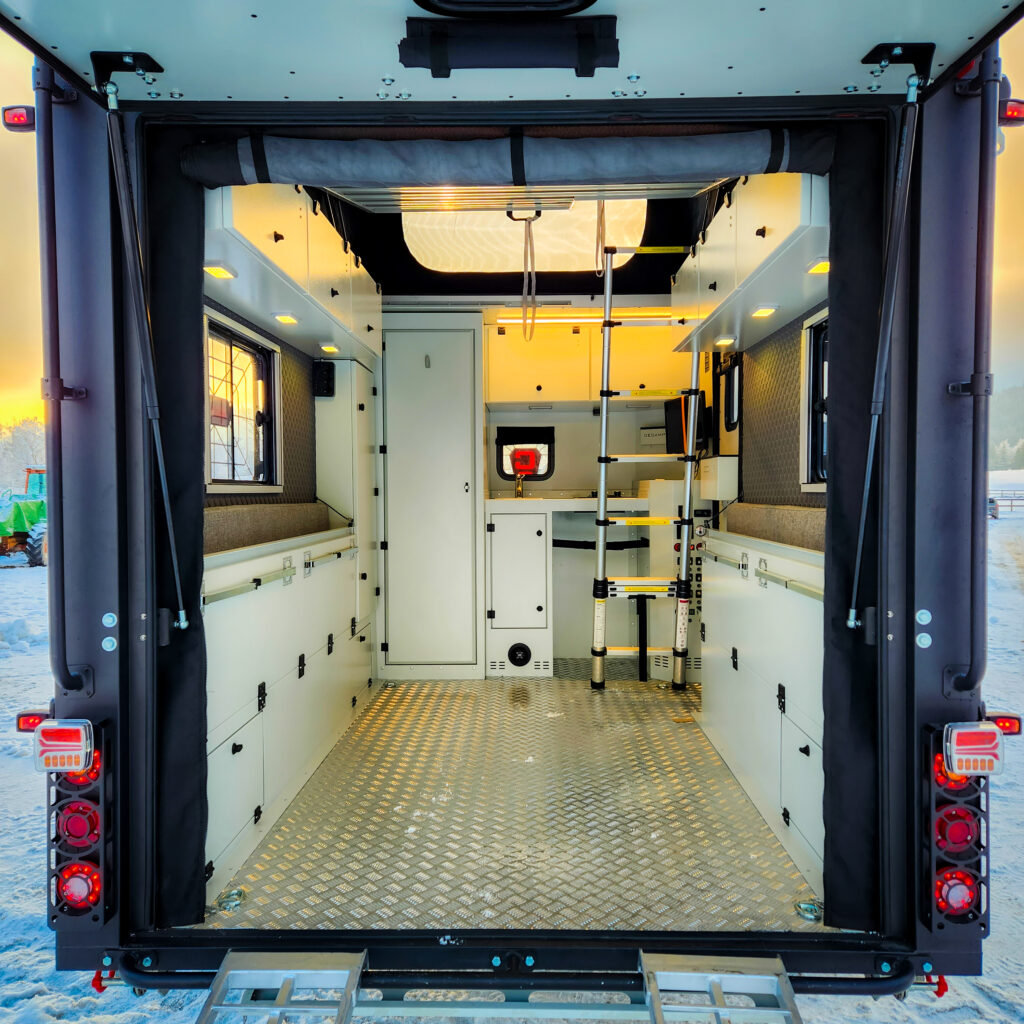 Living room and beds
The lounge area converts into a double bed for a 208 x 187cm bed. The caravan also has a bed under the roof that can be raised to accommodate 2 extra beds with mattresses.
Ideal for a family of adventurers, or for outings with friends, our caravan is comfortable and well equipped.
Kitchen
Thanks to its interior kitchen, you can cook delicious meals just like at home. Totally adjustable, you have enough space to cook and enough space to store all your necessary equipment.
Shower
It also offers a spacious indoor shower with WC. You will find all the comfort you need for a pleasant camping holiday.
Trailer
A real ADVANTAGE for this caravan which can be transformed into a trailer. It can be used to transport your quad, motorbike or bicycles. It can also be used to keep them safe during a walk or a hike during your trip.
Decamp trekking c3 caravan photo gallery
TECHNICAL INFORMATION about decamp trekking c3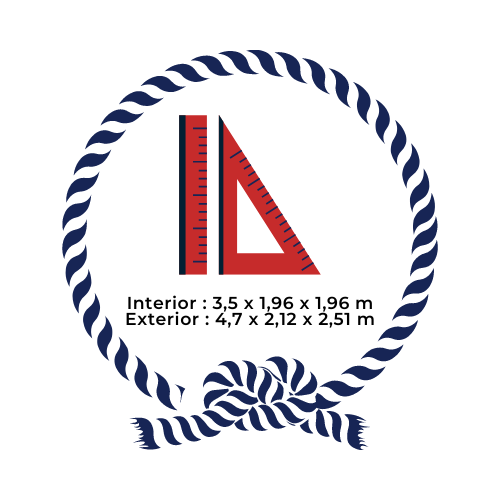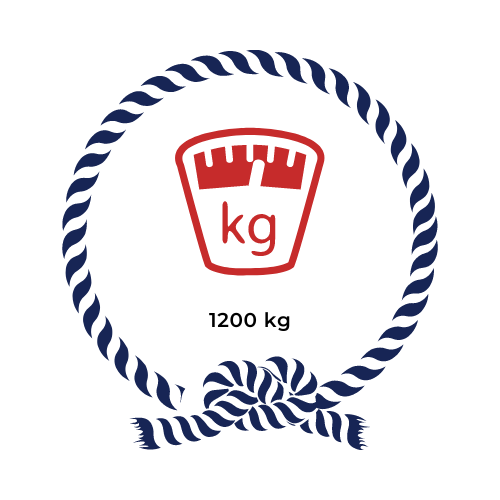 Some examples of activities and camping trips with our caravans
question about the decamp trekking c3 caravan model