CARAVAN FOR ROAD TRIP AND WORLD TOUR
Discover the pleasure of off-road caravan travail: adventure, nature, and comfort
OUR OFF-ROAD CARAVAN MODELS FOR YOUR ROAD TRIP
Discover our off-road caravan models and go camping wherever you want! All of our caravan models are designed for use by 3 to 5 people. You can go with family or friends and enjoy nature freely.
UNE CARAVANE TOUT TERRAIN POUR DES AVENTURES SANS LIMITES
The road trip is the journey that always holds beautiful surprises and the discovery of sumptuous lost places! When it comes to traveling on the most difficult roads, you need an off-road caravan to meet the challenge.

Would you miss an essential step of your journey because you can't access this magnificent place due to an unsuitable vehicle (too high, too wide, too heavy) ?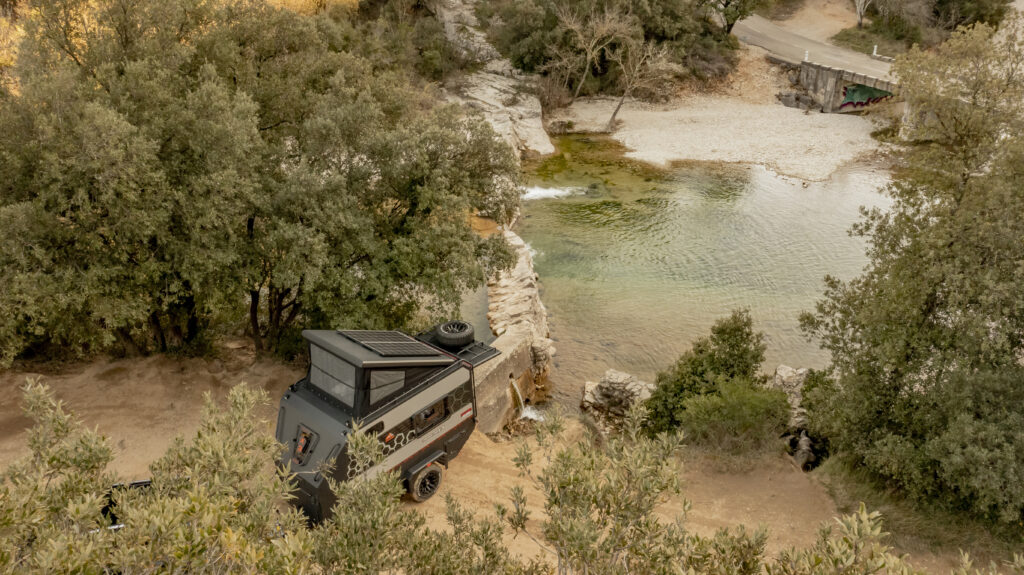 Compact and lightweight caravans
Our various off-road caravan models are ultra-lightweight and compact. They can be easily towed. The lightest model weighs only 745 kg, with dimensions that allow it to pass everywhere (4m x 2.12m x 1.95m).

The interior design of each model is optimized to take up a minimum of space and offer you maximum storage and equipment.
Specialized caravans for difficult terrain
Our off-road caravans are built with the best materials and the latest technologies to ensure durability and safety on the most difficult road types.

Each model is designed to meet your specific camping needs. A true 4×4 trailer, your caravan climbs the steepest, slipperiest roads and trails.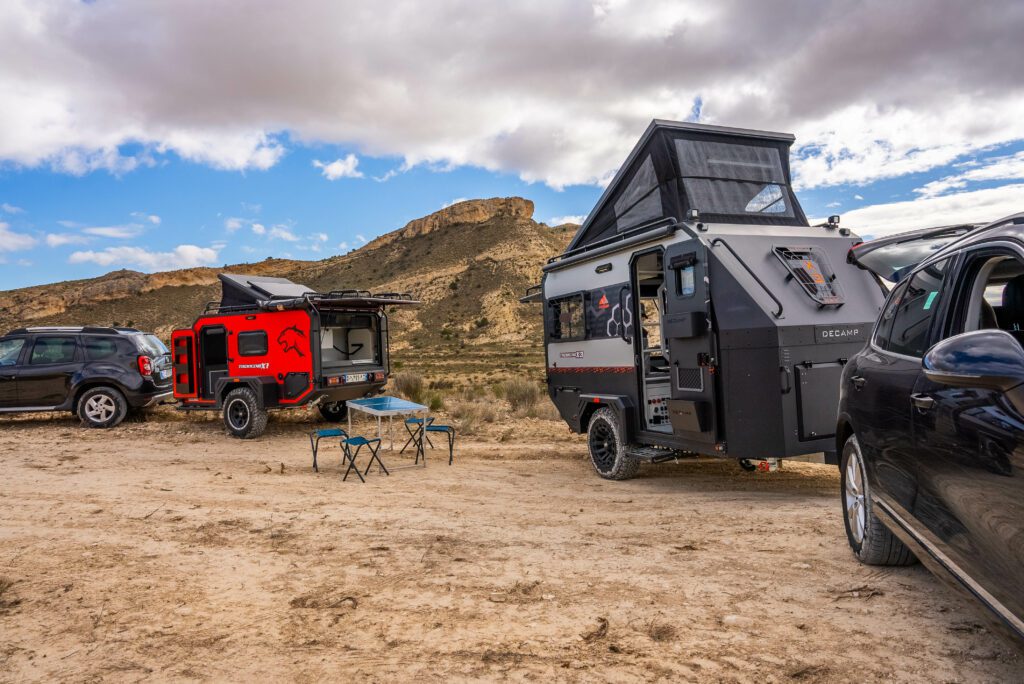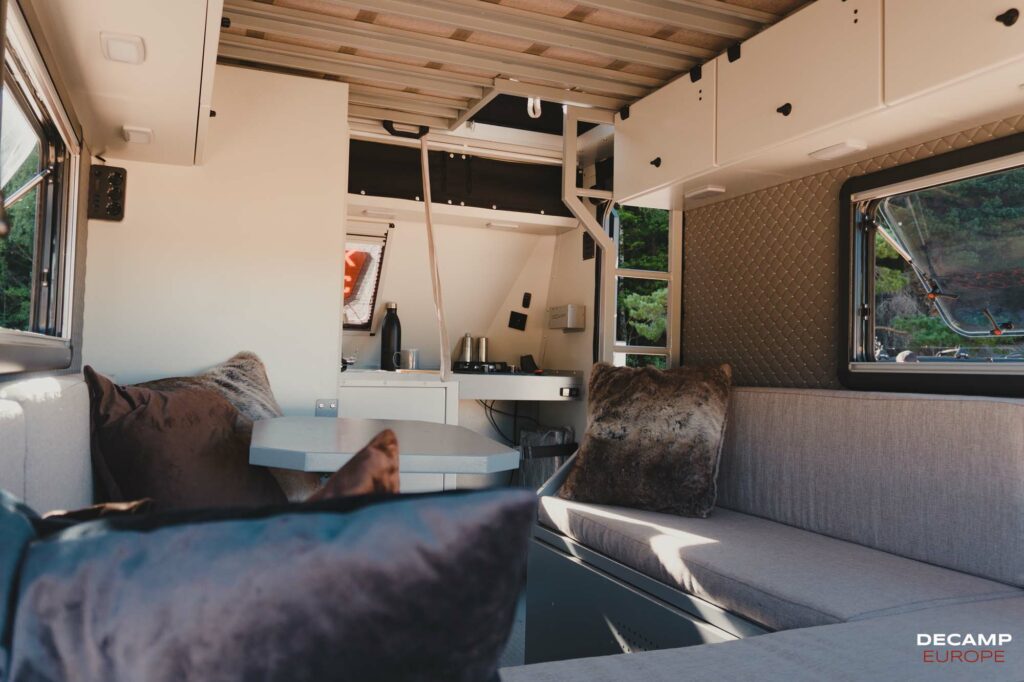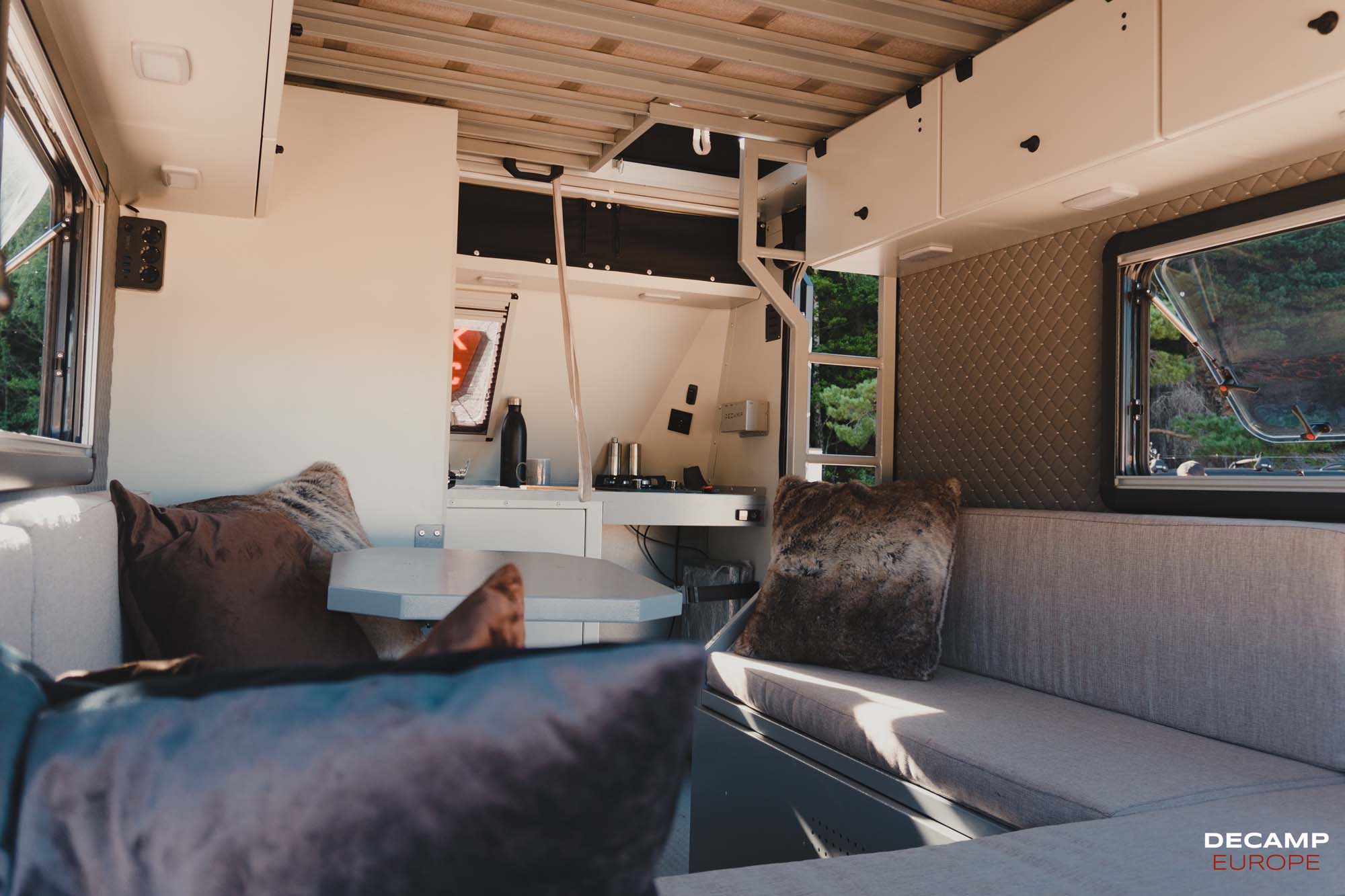 Comfortable caravans
Whether you are traveling alone or in a group, we have a caravan to meet your needs. Our models are equipped with all the necessary equipment to make your journey comfortable and enjoyable.

You can enjoy a high-end layout, with a equipped kitchen, a shower and toilet area, a sleeping area for up to 5 people, and many storage spaces.
HOW TO CHOOSE THE CARAVAN MODEL FOR YOUR ROAD TRIP?
Define the use of your camping trailer and the necessary equipment well.
Our team is at your disposal to answer all your questions about DECAMP caravan trailers and provide you with advice to choose the model that suits your road trip, mountain getaways, or world tour.
If you're looking for an ultra-compact and lightweight off-road caravan model for three to five people, we'll guide you to the TREKKING X1 model. If you want to go camping with your family for several weeks, we can recommend the TREKKING X3 model.

If you want to add to the joys of camping a motorcycle or quad outing, we'll advise you on the TREKKING C3 off-road trailer model, which combines the advantages of a quad or motorcycle trailer with those of a caravan for your camping.
Off-road caravan experts at your service
Our team is composed of off-road caravan experts who provide you with all their advice to find the perfect caravan that meets your expectations and needs.
Choosing an off-road caravan for your future road trip can be difficult, which is why we are always available to answer your questions and help you make the choice that is completely tailored to your expectations.
We can guide you in choosing the caravan that will meet your needs, based on the itinerary of your road trip, the duration of your journey, the towing vehicle, and the type of road you plan to take.

We are here to help you find the perfect off-road model for your next road trip. We want you to be able to fully enjoy your adventure and journey without having to worry about your caravan.
CUSTOMIZE THE INTERIOR OF YOUR CARAVAN before your road trip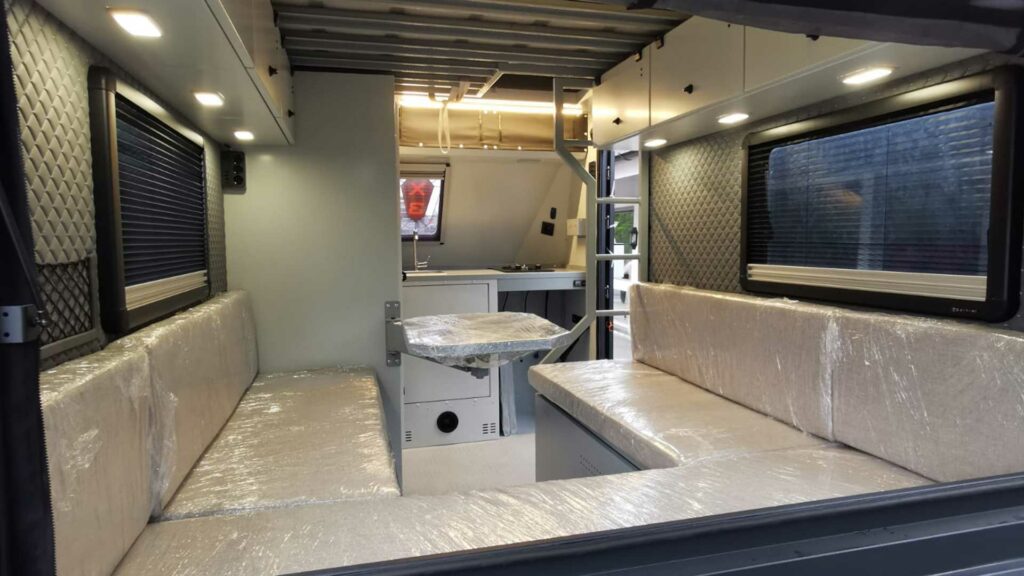 We know that every road trip is unique, which is why we offer customization options for all interiors of our off-road caravans.

You can create a living space that matches your desires and needs. We can help you design an interior that will meet all your requirements.
QUESTIONS ABOUT OUR CARAVANS FOR ROAD TRIPS